Although you can play with up to two people thanks to the two Joy-Cons that you will find in the box of your Nintendo Switch, you will need more controllers if you want to play well in local multiplayer or with more people. Same thing if you want to play more easily over long gaming sessions. But then, which controller for Nintendo Switch should you buy in 2022?
Our selection of the best controllers for Nintendo Switch
8Bitdo SN30 Pro Classic Edition
24.98€
To see
What are best controllers to buy for the Nintendo Switch in 2022? The question arises fairly quickly after opening the box of his new console. Indeed, if the Joy-Con are excellent little hybrid controllers, they are not enough on their own. Especially since the Joy-Con Drift problem, which has affected all controllers since the release of the console, is still not resolved. So whether it's to play with more than two people, to replace your faulty Joy-Con or simply to play in better conditions, the need to buy a new controller can quickly arise.
There is, however, more than one Nintendo Switch on the market. There's the base Nintendo Switch, released way back in 2017, and the Nintendo Switch OLED, which we tested here. Both offer hybrid gameplay, whether in handheld mode or on TV. There's also the handheld-only Nintendo Switch Lite which, with its docked controllers, inevitably requires new controllers to play multiplayer. Luckily, all of the controllers you'll find here will work with the Lite, with some deliberately designed to be just as portable.
Nintendo Switch Pro Controller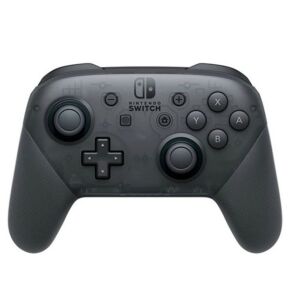 Cdiscount

49.99€

Discover the offer

Fnac

53.78€

Discover the offer

E.Leclerc

59.99€

Discover the offer

Amazon

59.99€

Discover the offer

Baker

60.99€

Discover the offer

Rakuten

60.99€

Discover the offer

crossroads

74.95€

Discover the offer
More offers
It's priced high, but Nintendo's Pro Controller is still the best gamepad for playing Switch games like Splatoon 2 Where Super Smash Bros. Ultimate precisely. Its translucent plastic design is both sturdy and extremely comfortable, with ergonomic curves and textured grips on the handles. The shifters are both durable and soft to the touch. In itself, difficult to blame him for anything, even in 2022.
One of the only flaws of this controller is its D-Pad, which may not be large or precise enough. Its price too, since as an official Nintendo product, the mint is almost never found below its retail price of €59.99. However, keep in mind that it perfectly supports the HD vibrations of the Switch, as does the NFC functionality dedicated to digitizing amiibos.
| The + | The – |
| --- | --- |
| Nintendo quality | The price |
| Autonomy | |
| Ergonomics | |
| | |
Horipad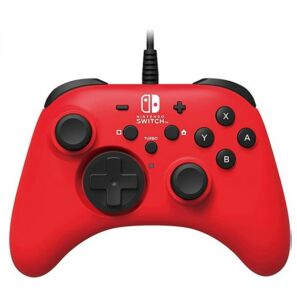 Rakuten

23.91€

Discover the offer

Amazon

24.98€

Discover the offer

Fnac

25.7€

Discover the offer
You've probably seen it in a supermarket or specialty store: the Horipad for Nintendo Switch is an excellent, particularly robust and affordable wired controller. So certainly, you will not benefit from the comfort that wireless provides, but at 25 euros, it is difficult to blame it for anything.
Available in multiple colors and editions, it benefits from a button-activated Turbo mode, but no effect feedback or motion detection. Ergonomic, this controller is a product officially licensed by Nintendo, which is a pledge of confidence.
| The + | The – |
| --- | --- |
| Almost unbeatable value for money | No HD vibration |
| A good quality controller | No gyro |
| | |
| | |
8BitDo SN30
8Bitdo SN30 Pro at the best price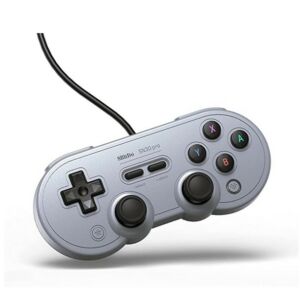 Amazon

25€

Discover the offer

Rakuten

26.99€

Discover the offer
If you want to play hassle-free retro games like Mega Man X Legacy Collection, Super Mario Maker 2 or the multitude of NES and SNES games offered by the Switch, then the 8BitDo SN30 is for you. You'll probably recognize it: it looks like two drops of water to the iconic Super Nintendo controller, with a light design in the shape of a candy bar.
What's nice is that the different models of the SN30 controller come in a variety of colors, all inspired by the Game Boy Pocket. You can even use it as a wired USB controller with the supplied USB cable.
| The + | The – |
| --- | --- |
| Its very successful design | No NFC, no HD vibration, no gyroscope |
| His price | |
| | |
| | |
Arcade Stick 8BitDo
Arcade Stick at the best price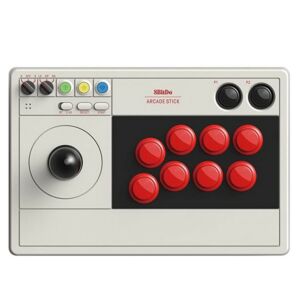 Amazon

88.75€

Discover the offer

Fnac

99.99€

Discover the offer

Cdiscount

99.99€

Discover the offer

Rakuten

99.99€

Discover the offer
If you are used to playing Dragon Ball FighterZ or other fighting games, the Arcade Stick from 8BitDo is for you. This is a very well made pad that will appeal to both retrogaming and fighting game enthusiasts. You can customize key mapping and create macros with any type of combinations.
The stick, wireless thanks to Bluetooth or a small 2.4 GHz adapter, can also be used wired thanks to its USB-C cable. It is also compatible with your Windows PC (and by extension on Steam), but also on Raspberry Pi.
| The + | The – |
| --- | --- |
| The neat 8BitDo-style design | Maybe not wide enough |
| Can also be used on PC | Update it before using it |
| Ergonomic and complete, perfect for occasional use | |
| | |
8BitDo SN30 Pro G
8Bitdo SN30 Pro Classic Edition at the best price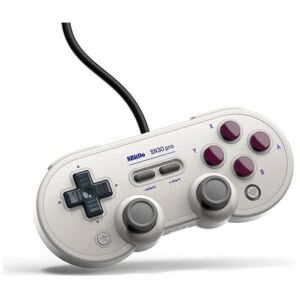 Amazon

24.98€

Discover the offer
8Bitdo's SN30 controller is functional, responsive and works perfectly with the Nintendo Switch. In effect, it takes the well-known design of the SNES controller, but adds two analog sticks, four triggers and allows the whole thing to work easily with your PC, Mac, Android smartphone and the Nintendo Switch, of course.
Four LEDs on the bottom edge of the SN30 Pro indicate connection status. A USB-C port, located on the top edge, lets you charge the controller with the included USB-C cable and wall adapter. A sync button sits to the left of the USB-C port, and a charging light sits to the right.
| The + | The – |
| --- | --- |
| Really good for 2D games | Not compatible on Mac |
| Good grip | |
| | |
| | |
PowerA NSW EnWired
PowerA NSW at the best price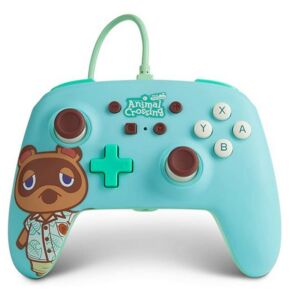 Amazon

24.98€

Discover the offer

Fnac

24.99€

Discover the offer

Cdiscount

29€

Discover the offer

Rakuten

31.87€

Discover the offer
If you don't have the $60 to shell out for Nintendo's Pro Controller, PowerA's Wireless Controller is the best alternative you can find. This gamepad has a light, but rather robust design, solid buttons and very smooth analog sticks in use.
If the PowerA controller does not benefit from HD vibrations, it does however benefit from motion sensor support for titles like Splatoon 2 and Mario Kart 8 Deluxe. To top it off, PowerA's wireless controller comes in a variety of stylish color combinations that include licensed Mario, Zelda, and Diablo designs.
| The + | The – |
| --- | --- |
| Dozens of different colors | The directional cross leaves something to be desired |
| A contained price | Correct build quality, but no more |
| | |
| | |
Which controller design to choose?
When choosing your Nintendo Switch controller, you will first need to choose a form factor. If you are used to playing on PlayStation or Xbox, then a controller of the same type (like the Nintendo Switch Pro Controller or the Horipad, for example) will probably be more suitable for you.
You might also like the Joy-Cons and just need to buy a pair to play with one or two more friends. Yes your budget is tightit will nevertheless be necessary to ask the question, since a pair of Joy-Con still costs the trifle of 64.99 €, where a controller like the Horipad costs only 24.99 € (and therefore 49, €98 for both, or €15 a month for a pair of Joy-Con).
In the same way, if you play a lot of retro or 2D games, choose a controller dedicated to this type of game. A controller like the 8BitDo SN30 Pro G would be particularly suitable, for example. Finally, if you play a lot of fighting games, consider buying a stick instead, for more comfort.
Do I need a wired or wireless controller?
The next big question is whether you want wired or wireless controller. On this specific point, everything will depend on your tastes, your needs and your use.
The wired controllers have a few advantages over their wireless counterparts. They are already generally much cheaper. They don't have no need to be recharged either, meaning you'll never run out of battery. Most wired controllers for Nintendo Switch come with 3 meter cables that you connect to your console, so be sure to assess the distances between your chair or couch and your Switch before purchasing.
Read also: Best Nintendo Switch and Switch OLED games: discover our selection
But if you are used to playing on the TV and it is more than 3 meters away, you should consider a wireless controller, because the cable can quickly become disabling. These latter are easy to pair with your console and remain globally more versatile generally. With them, there's no need to add cables into the equation. No need either to have to bring the sofa closer to the TV, or to have to put the Switch half on an armchair between the TV and the sofa, with wires everywhere.
However, these controllers need to be recharged. So, remember to check the battery life of the controller you are considering buying. Most offer between 20 and 40 hours of gameplay, but those are rough numbers. In this field, know that the Nintendo Switch Pro Controller scratches almost all of its competitors from the map.
Should we take a controller with NFC, HD vibrations and gyroscope?
Finally, the third and last question to ask yourself before your purchase is whether you need the special features related to the Nintendo Switchnamely the hd vibesthe gyroscope and the NFC. So if you have amiibo, or play games with motion controls, you'll need a controller that supports one or the other, or both. So remember to check these points before you buy.
The hd vibes are less of a problem in the sense that it's just a "little extra" when playing. This is still a point to take into account when buying your controller. Some prefer that there are no vibrations when playing, others appreciate or like to enjoy the video game as it was designed by its developers. It's up to you to decide.
Read also: Best Nintendo Switch accessories: our selection of the most useful models
We want to say thanks to the writer of this article for this outstanding content

Nintendo Switch controllers: the best models to buy in 2022?


You can view our social media profiles here and other pages related to them here.https://gaming.coolnspicy.com/related-pages/